Key events
19 min: Valverde on the attack down the right. Then Modric holds his position and possession. There's a suggestion Mendy elbowed Raphina but nothing doing there. A hand-off, nothing more.
17 min: Barcelona haven't been able to dictate play as Xavi would like. Or like he once did. Madrid's speed on the attack and quality in midfield dominating this one so far.
15 min: Some levers to pull for Xavi but it was Toni Kroos' brave pass and awareness that created the goal. Like Modric, he remains a master.
14 min: Benzema the Ballon D'Or man, was not going to miss, and Vini Jr's speed against poor Sergi Roberto, was never going to be a fair fight.
Goal! Real Madrid 1-0 Barcelona (Benzema, 12)
Pedri steals the ball in a highly dangerous position but is forced wide and his shot is no threat. The ball gets deflected back out and away go Madrid. It's Vini Jr, of course, who screams past Sergi Roberto, after Kroos beats Busquets to the punch. The shot is saved by Ter Stegen but it comes out to Karim Benzema. You know the rest.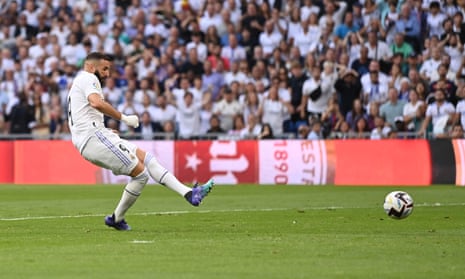 10 min: It's been open fare so far, and all the better for it. Not quite shock and awe of eras gone by but plenty of talent on show, and two ropey defences. Vini Jr down the left is seeing plenty of the ball. Big afternoon for Sergi Roberto, these days a veteran.
8 min: First big Real attempt. Vini Jr cuts in, across Sergi Roberto, and his shot deflects behind.
7 min: Madrid try to get Carvajal down the wing but the teenager Balde sweeps up. Barca go down the other end, and Dembele gets motoring, holding up the ball, and slide in Lewandowski, whose shot is wide. There's a flag, but that was threatening.
5 min: First Barca effort of the game. Raphina is slotted in by De Jong and wallops one wide.
4 min: This the 100th Clasico at the Bernabeu, and it's started with both teams trying to impose their style. Barca are passing it around, Real are going direct when they can.
2 min: Early spin from the Vini Jr box of tricks but this time he won't be getting the better of Jules Kounde. And in fact falls over.
1 min: We are go at the Santiago Bernabeu, and the tifos in the still unfinished stands are reassuringly massive. Xavi, in chinos, looks intent on the sidelines. Don Carlo Ancelotti is in his suit, and already barking instructions.
Fun and games in His Majesty King Charles III's English Premier League.
Philip Podolsky gets in touch: "Funny how perceptions change: I don't think that five years ago anyone would've omitted Suarez and Aguero from a shortlist of Millennial strikers, however select. But then five years ago few would've selected De Bruyne ahead of Hazard as the greatest Belgian footballer of his generation whereas now etc. Everything is in constant flux is what I'm saying."
Stat attack from Opta. Translation here.
5 – Ferland Mendy , from @realmadrid has not lost any #ElClásico in all competitions (W4 D1). Only Steve McManaman (7L 3V 4D) has played more official classics without losing than the Frenchman among the players who debuted in this duel in the 21st century. Amulet.
In goal for Madrid is Andriy Lunin, the Ukrainian, who has replaced Thibaut Courtois, who hasn't recovered from the back injury that's kept him from playing in the last four matches.
The teams via social media.
There they are, the lads. The Super League lads.
Sponsorship news here, per Reuters.
Barcelona will sport the owl logo of Drake's OVO Sound label on their jerseys instead of main sponsors Spotify when they take on Real Madrid on Sunday to mark the Canadian rapper surpassing 50 billion streams on the music platform. Barcelona, who were one of the last major clubs without a shirt sponsor, said the move was part of their efforts to bring football and music together. Four-times Grammy award winner Drake posted an image of the limited-edition jersey on Instagram to his more than 120 million followers. Barça lead La Liga on goal difference ahead of Real Madrid.
Well done, Drake, on trousering the £22.50 approx you get for 50 billion streams….Don't spend it all at once, mate.
Robert Smithson, perhaps missing my rather poor joke, admits to pedantry: "If we're being pedantic about the use of definite articles in Spanish and English, it would be "The first Clasico of the season". If we're extending pedantry to diacritics, it would be "The first Clásico of the season". Apologies."
(The joke being that people call it The El Clasico like The MLS. Jokes that have to explained are dead jokes so well done, Robert, for making me feel so small. He's right, of course. )
Sid Lowe, who will be our man in Madrid later, spoke to Luis Figo, someone who embodies the morbo of this eternal rivalry.
I had everything in Barcelona, but you think: 'It's not like I'm going to a second-rate club.' If it hadn't been Madrid, maybe I wouldn't have gone. It's a challenge, a decision based on feeling valued, convincing me I was going to be an extremely important piece. It could have been a cagada, a cock-up, but it wasn't, thank God.
The Netflix documentary is still well worth a watch.
What do these teams mean?
As predicted, Modric is back into midfield from the team that drew 0-0 with Shakhtar in midweek. Eden Hazard drops out as Vinicius gets the nod. Dani Carvajal, Eder Militao and David Alaba come in for Lucas Vazquez, Toni Rudiger and Nacho.
Jules Kounde is back in the line-up in place of Gerard Pique who struggled in that fateful 3-3 with against Inter in the Champions League. Frenkie De Jong also returns is in in place of Gavi while 18-year-old Alejandro Balde replaces Marcos Alonso.
Real Madrid XI: Lunin, Carvajal, Militao, Alaba, Mendy, Tchouameni, Kroos, Modric, Valverde, Vinicius, Benzema.
Barcelona XI: Ter Stegen; Roberto, Garcia, Kounde, Balde; De Jong, Pedri, Busquets; Dembele, Lewandowski, Raphinha
The first The El Clasico of the season, and it's a top of the table clash. As per usual, right? Well, not exactly since Barcelona, top of La Liga on goal difference, are staring down a Champions League abyss and need the domestic scene as a fig leaf for their European problems. That came, of course, after Barça attempted to raise themselves with some Kwasi-style economics, pulling more levers than The Fat Controller. Real Madrid have sat back and been far more circumspect. Having called off the dogs in the Kylian Mbappé hunt, they are in the process of a partial rebuild, with Aurelien Tchouameni in the midfield, and the likes of Luka Modric rested on occasion, though the latter great man will be lining up here.
It's also Robert Lewandowski's first Clasico, where he will face Ballon d'Or elect Karim Benzema, playing in his 42nd, battle of 34-year-olds, the two best strikers of their generation. This fixture will always possess such star quality, and though this game may not have hit the hype levels of You Know Who v Him Too it's sure to throw up storylines aplenty, and hopefully lots of good football.
The kick-off is 3.15pm UK time. Join me.