Key events
WHAT A SAVE KEPA! Villa are playing well and Bailey diddles Chilwell then crosses well from the right and Ings makes a decent flying connection, only for the keeper to tip away! I always rated him.
"That's a common sense question," says Alix Sharkey about why we've no football at Leeds, "but what if there's a debate over whether the ball crossed the goal line? What about a contentious offside call? Of course, we all want to see the game go ahead and Leeds to win (Spurs fan here) but it would asking for trouble, as well as legal minefield should the result affect the relegation battle at the end of the season."
Football coped for a fair while without any of this. The point of the game is not, in mine, to get correct decisions, and doubt anyone fell in love with it because of them. Anyhow, the players appear to be returning.
Still nothing going on at Leeds, which can't be right.
YE'VE GOTTAE SCORE! Tripper whacks a free-kick into the wall and when a clever ball comes back in and over the top, Joelinton bobs a header onto the bar, then directs a second effort onto the post with De Gea grounded! What an oversight that is!
Villa are knocking on the door, Kepa making one save, then another follow-up shot hitting the post.
The officials don't want to know! It looked suss to me, but the goal stands!
GOAL! Southampton 1-0 West Ham (Perraud 1)
A drive from distance is deflected and sneaks in, but West Ham are furious because they think that in the lead-up to the goal, Kyle Walker-Peters had a foot over the line when taking a throw.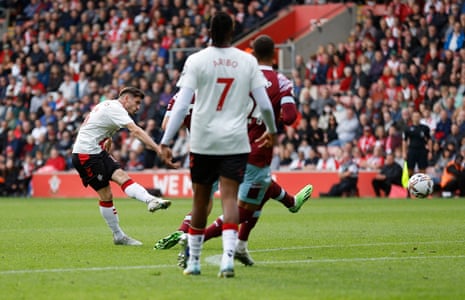 Scamacca has just wellied a terrific shot fractionally wide at St Mary's.
All Southampton at St Mary's, but nowt in the way of chances so far.
Eeesh, hands on heads at Villa Park, where Bailey, arriving on the burst, has just headed against the top of the bar.
"Newcastle in their traditional green and white today then," emails Adam Roberts. It's presumably a spooky coincidence that those are the same colours as the Saudi flag.
The players are now being taken off with fans told there's a "powercut". Back at Old Trafford, Newcastle enjoyed a couple of good minutes, then Sancho – more dynamic today than in his previous three starts – curls a shot wide.
Still no play at Leeds, and I'm not sure why – why not just get on with it, without the tech?
There's a lovely tempo at Old Trafford, Newcastle countering and Martinez executing another challenge that's just the right side of dodgy – in midweek, he stopped a counter and managed not to get sent off and this time avoids conceding a penalty.
GOAL! Aston Villa 0-1 Chelsea (Mount 6)
A(nother) disaster for Tyrone Mings, who leaps to head clear a loopy, deflected cross, only to send the ball behind him where the lurking Mount cushions home an easy volley.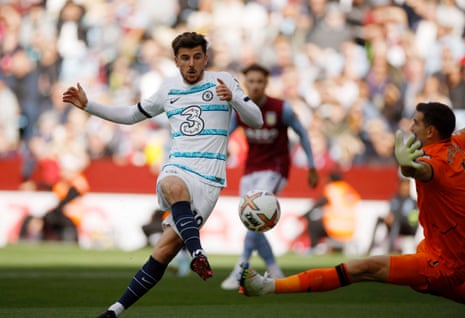 Fabian Schar has hurt himself blocking a Ronaldo cross, twisting something on the slope behind the goal. He goes off and his mates clear the corner, but I think he'll be fine.
At Elland Road, some sort of issue with the officials' tech means we've started then stopped.
Man United have started well against Newcastle, Sancho teeing-up Fred for a shot whacked wide. I didn't expect the former to play today, but he did well after coming off the bench in midweek and perhaps his possession-heavy style is thought more suitable for the way Ten Hag wants his team to play in this game. My guess is that Sancho is a player the manager expected to be in his first team, but he's not earned the spot so far.
"As much as it pains me, as an Arsenal fan, to pick a Spurs legend over Vieira," exculpates Kári Tulinius, "Glenn Hoddle is surely the best bet, given that he played three times as an emergency goalkeeper, including an apparently heroic performance against Leeds where he kept a clean sheet. He was also quite handy elsewhere on the pitch."
Yes, he was decent at sweeper in his dotage too, but I'd be worried about his speed down the sides.
Away we go!
The players are out in our various matches. Here we go…
"The one-man 11 has to be David Webb, the Chelsea legend who played in pretty much every position in his time there including keeper," says David Pearce. "He wore every shirt from 1 to 12, in the days they meant something in terms of position, except for 11."
Similar is so of Johnny Carey, who played, I think, nine different positions for Man United including keeper and captained them to their 1948 Fa cup win and 1952 league title.
"KDB is on to something IMO," emails Tom Atkins. "Vieira did step in at centre-half very occasionally for Arsenal. He was positionally aware and a better finisher (particularly in one on one situations) than he was given credit for. Only drawback is there would probably only be six or seven of him left on the pitch by the end of the game."
De Bruyne also said he'd prefer to win the World Cup with Belgium than the Champions League with City, which I guess makes sense – the former would make him immortal in his homeland.
Gianluca Scamacca seems to be settling nicely at West Ham. He leads the line again, with Lucas Paquetá roaming behind him. Paquetá, like Newcastle's Bruno Guimarães, is a prime example of the Premier League's unhealthy financial dominance of football – players that good leaving Lyon for clubs in neither the Champions nor Europa League should make us feel a little queasy – and it's incumbent upon us to notice, even while enjoying them on a weekly.
Also going on…
Elsewhere, Man United lead Brighton 4-0.
"Glenn Hoddle was the backup goalkeeper – or next in line – at the 1982 World Cup if I recall correctly," tweets @TheStellaRossa. "Shilton was fine but both Ray Clemence and Joe Corrigan were injured during the tournament. Had anything happened to Shilts, big G was the goalie!"
I was three in '82 so don't remember that – my debut was '86 – but nevertheless I'm hurt that didn't happen.
"This Brazilian central defender called Gabriel," emails Charles Antaki, "is an an improvement over Arsenal's previous Brazilian central defender called Gabriel (quietly shown the exit door five years ago); so we're on a trajectory where Arsenal's next Brazilian central defender called Gabriel will be a world-beater."
I'd forgotten about him – though should have noted that at 24, current Gabriel has time to up his level.
Kieran Tierney might be wondering what's going on this afternoon. Last weekend, Arteta used Tomiyasu on the wrong side – his side – at left-back, which I assumed was so Mohamed Salah would come inside on his strong foot. But Sinisterra hardly demands the same provision, which suggests Tierney might now be third choice.
Here she is in our Premier League Likeable XI:
The Chelsea players have "Get well soon Emma" on the back of their training tops, as message to the manager of their women's team who's having time off with illness. We echo that – Hayes is a hero.
"So why not say 'Manchester' and 'Newcastle' then?" asks Mike Daniels. "Why insist that Manchester have dibs on 'United'?"
Er, because there's another team – also playing today as it goes – who have "Manchester" as their first name, and not another who use "Newcastle". It's not deep, I promise.
"Good Afternoon Daniel, good afternoon all round, from a cloudy Lewes," begins Em Jackson. "In this fixture between Man Utd and Newcastle Utd, I'd pick a hybrid player, a United United player if you will: 50% Roy Keane & 50% Alan Shearer. Would give your side 110% vs the opposition and 120% in fights between themselves. Otherwise I'd go with Nicky Butt."
Meanwhile, Keith Priddle wonders "How about Harry Kane, striker, midfield and goalie. Or Glenn Hoddle can do the same and put gloves on in extremis!"
Indeed, here his is donning the gloves … and keeping a clean sheet at Old Trafford.
I've just noticed that Carney Chuwuemeka is on the bench for Chelsea against his old club. I really like what I've seen of him, and I'd love to see him get on the pitch for a proper stretch today. Otherwise, that side looks a little strange – Gerrard will fancy his side to outnumber Loftus-Cheek and Kovacic in central midfield, and Mount is not as his best off the right.
Back Arsenal, I said I'm concerned about their back four, and I am. I think they're all decent players, and Ben White in particular is doing a terrific job at right-back given he isn't really one. But it's rare a side wins a title without some of the best defenders around, and I find Gabriel a little wild.
Talking of Kobby Mainoo – and please be aware, I do not say this lightly – this is THE GREATEST calling a player by their fore- and surname there's ever been.
Public service announcement: I know both Manchester and Newcastle have the same surname. But we're covering four matches at once here, so please forgive with me if I call one "United" and the other "Newcastle", it's nothing personal.
"He could play left-back, right-back, get you a goal, knew how to defend, never injured, a brilliant guy in the dressing room. "Denis would be world class to me x11," says Alex Newcombe of Roy Keane's roommtate, Mr Irwin.
Righto, let's make our way through what these teams mean:
Steven Gerrard has yet another bash at finding an XI that works, binning Philippe Coutinho and Emi Buendía for Danny Ings, that famous left-winger, and Leon Bailey, while Graham Potter brings in Kai Havertz, Marc Cucurella and Ruben Loftus-Cheek for Kalidou Koulibaly, Jorginho and the aggravatingly injured Reece James.
Leeds bring in Luis Sinisterra, who's back from suspension, and he replaces Patrick Bamford; Arsenal are unchanged.
Man United are without Christian Eriksen and Scott McTominay, so Fred, who started in midweek, is again in midfield with Casemiro and Bruno Fernandes. At the back, Raphaël Varane is deemed ready to regain his place from Victor Lindelöf, while in attack, it's Jadon Sancho not Marcus Rashford and Ronaldo not Anthony Martial. Also worthy of note is the presence of local lad, Kobby Mainoo on the bench – he looks a ridiculous talent, an all-round midfielder with beautiful balance, skill and weight of pass. As for Newcastle, Eddie Howe brings Joelinton in for Joewillock.
At St Mary's, Southampton bring in Ainsley Maitland-Niles and Mohamed Elyounoussi for Ibrahima Diallo and Stuart Armstrong, while West Ham field Ben Johnson, Vladimir Coufal and Emerson instead of Craig Dawson, Kurt Zouma and Pablo Fornals.
On Sky, Kevin de Bruyne has just been asked which player he'd pick if he had to compile an XI of the same player. He said Patrick Vieira – I'm not sure why because as amazing as he was, he was a midfield specialist. Now that you don't ask, I'd picking between Steven Gerrard and Wayne Rooney but leaning towards the latter because he's a decent keeper. Feel free to tell me why I'm wrong.
Aston Villa: Martinez, Cash, Konsa, Mings, Luiz, McGinn, Ings, Watkins, Young, Bailey, Ramsey. Subs: Olsen, Sanson, Buendia, Chambers, Nakamba, Bednarek, Coutinho, Dendoncker, Bogarde.
Chelsea: Kepa, Chalobah, Silva, Cucurella, Mount, Kovacic, Loftus-Cheek, Chilwell, Havertz, Aubameyang, Sterling. Subs: Mendy, Jorginho, Pulisic, Broja, Zakaria, Gallagher, Koulibaly, Azpilicueta, Chukwuemeka.
**
Leeds United: Meslier; Kristensen, Koch, Cooper, Struijk; Roca, Adams; Aaronson, Rodrigo, Harrison; Sinisterra. Subs: Klaesson, Ayling, Firpo, Bamford, Summerville, Llorente, Gelhardt, Greenwood, Klich.
Arsenal: Ramsdale; White, Saliba, Gabriel, Tomiyasu; Partey, Xhaka, Odegaard; Saka, Jesus, Martinelli. Subs: Turner, Tierney, Nketiah, Holding, Cedric, Vieira, Lokonga, Nelson, Marquinhos
**
Manchester United: De Gea, Dalot, Varane, Martinez, Shaw, Fred, Casemiro, Sancho, Antony, Fernandes, Ronaldo. Subs: Heaton, Lindelof, Rashford, Malacia, Pellistri, Elanga, Garnacho, Iqbal, Mainoo.
Newcastle United: Pope, Trippier, Brun, Botman, Schar, Longstaff, Joelinton, Guimaraes, Murphy, Almiron, Wilson. Subs: Karius, Lascelles, Shelvey, Lewis, Targett, Wood, Fraser, Willock, Anderson.
**
Southampton: Bazunu, Walker-Peters, Bella-Kotchap, Salisu, Perraud, Maitland-Niles, Ward-Prowse, Elyounoussi, Aribo, A Armstrong, Adams. Subs: McCarthy, Lyanco, Caleta-Car, S Armstrong, Mara, Djenepo, Edozie, Diallo, Larios.
West Ham: Fabianski, Coufal, Johnson, Kehrer, Emerson, Cresswell, Soucek, Rice, Bowen, Paqueta, Scamacca. Subs: Areola, Randolph, Fornals, Antonio, Lanzini, Downes, Ogbonna, Benrahma, Coventry.
"Have you done your roadwork, you'd better keep your left up" – immortal words for anyone old enough to remember the days when breakfast was the most important meal of the day, not something best avoided by all right-thinking members of society, and when our halves of televised football weren't bookended by missives from our favourite altruistic "behing caaaantny". Nevertheless, this early afternoon slot houses a selection of games that are very, very tasty, so let's climb onto that painful segue and dive right in.
At Elland Road, Leeds entertain Arsenal, the league leaders having won three straight since losing while playing fairly well at Old Trafford. Their defence still looks a little suss – perhaps too suss for a serious title challenge – but on the other hand, if Mikel Arteta's team have found an attacking style reliably fluent enough for them to beat everyone they should beat twice, you never know.
Meanwhile, we should see a belter at the aforementioned – its first league fixture in six weeks. Manchester United are nowhere near as good as they could be but are perceptibly progressing, and Thursday night's Fergie-time winner won't have done them any harm. Newcastle United, though, are in fine form, and their hard-running proactivity and invention looks a decent match-up for a side still trying to assimilate a new way of doing things.
As if that wasn't enough, old friends Steven Gerrard and Chelsea convene with the former's Villa under severe pressure. It seems unlikely that his board will tolerate too many more tame reverses, and though Chelsea have major injury issues, the players who are fit have settled well under Graham Potter.
And finally, West Ham, who took a while to get their season going, visit Southampton, who've lost four in a row while looking like serious relegation candidates.
Which is to say that there's a load going on, so stick with me as we watch it all unfold.
Kick-offs/kicks-off: 2pm BST