Key events
Ben Fisher was at the King Power. His report is in. Thanks for reading this MBM.
Patrick Vieira speaks frankly to BT. "It was frustrating, because we didn't play as well as we can, or wanted. We had situations that allowed us to create in the first half, but we were not aggressive enough going forward. In the second half it was all about them, we created nothing. But we defended well. Of course there's a frustration there, but at least we take a point. In the second half we were completely flat. It was a poor second half. We were not brave enough to break the lines today. We didn't take much risk, and that's one of the reasons we didn't create very much. We have to perform better."
Brendan Rodgers talks to BT Sport. "The performance was good. We limited a very good team who have a lot of individual players of quality to one chance which Danny Ward saved. We pressed very well. Second half, the pressure was much better, but we failed to make the final pass or get the little bit of luck that gives you the goal. You have to see the effort and fifth of the players. The talent is there. But if you're at the bottom confidence can be affected. It was a good performance and we deserved to win the game, but it was a clean sheet for us against a good team. The crowd gave us good backing and pushed the team. We are maybe not at the top of our game but there were lots of really good moments for us, some of our movement patterns and sequences to get into the final third, and then it was about individual quality. If you're not winning games it opens you up to criticism and I accept that, it's a part of the game, but as you can see today, the players are fighting, working and running. They're giving everything and it's going to be a season that, after our summer market, we're going to have to fight our way through the season, and the players are doing that. Hopefully we'll get better results as the season goes on."
Youri Tielemans speaks to BT Sport. "We know we are at the bottom of the league and we tried to do our best. We were in control of the game but didn't create too many chances. We are trying to win, we know we have the quality, we were trying to get the three points. There is pressure and we are here to deal with it. We have to try to manage it as much as we can, and climb the table. Hopefully next time we can get the three points."
To borrow a quote from that unnamed Tory MP when asked about Liz Truss's appearance at the 1922 Committee: it happened. There's not much else to say about that game. The point takes Leicester off the bottom of the table, for a couple of hours at least, but only on goal difference, and they've got a tricky run of games coming up before the World Cup break: Leeds (h), Wolves (a), Man City (h), Everton (a), West Ham (a). They're not clicking, and the fans are far from happy. Palace meanwhile move above West Ham into 13th spot.
FULL TIME: Leicester City 0-0 Crystal Palace
Some loud booing as the final whistle sounds. A chant of "We want Rodgers out" too, although that comes from a smaller pocket of fans. The pressure's on Brendan all right.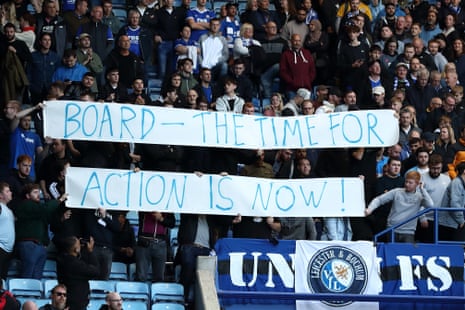 90 min +4: Maddison goes down in the box. The entire stadium claims a penalty. But it's a booking for the Leicester midfielder, who had flopped over Milivojevic's boot on purpose. He'll now miss the game against Leeds later this week.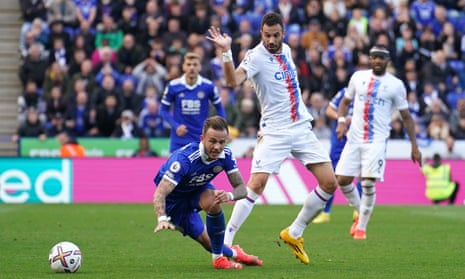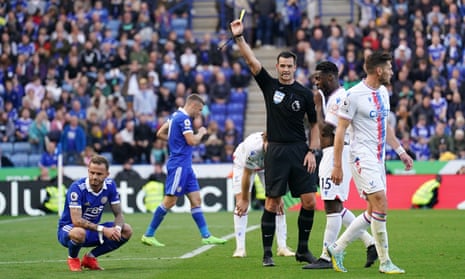 90 min +3: The King Power is hush-a-bye quiet now. "I wonder how many people below the line will blame this 0-0 on Danny Ward?" wonders Arwel Jones.
90 min +2: Poor Lucy Ward has been set the task on BT Sport of naming a man of this non-event of a match. She plumps for Wout Faes, defences having been on top, all that.
90 min +1: Maddison sends the corner straight down Guaita's throat. There are now three of four added minutes left to play.
90 min: A corner for Leicester now. It's played back up the right flank. Iheanacho drives low and hard. Guaita saves. Leicester come again, Iheanacho causing mayhem on the edge of the box. Dewsbury-Hall's low shot is deflected out for another corner, this time on the left.
89 min: Eze wins a corner down the left. Leicester are not good at defending these things, so imagine how happy they are when Milivojevic needlessly slides through Mendy to concede a pressure-releasing free kick.
87 min: Quite a few glum faces in the stands. Justin attempts to cheer everyone up by curling long from the left. Castagne, who has tried his best this afternoon, comes in from the other flank and larrups out of play from a tight angle.
85 min: Iheanacho, who makes a habit of scoring against Palace, comes on for Barnes.
84 min: Ayew drops a shoulder to make some ground down the left, then dinks a cross that lands on the top of the Leicester net.
83 min: Leicester pass it around the back with a surprising lack of urgency.
82 min: Praet comes on for Tielemans.
81 min: Vardy is booked for a frustrated slide through Guehi.
80 min: Mary Waltz emails in. The subject reads "uneventful", the body contains absolutely nothing. Art imitating life.
79 min: Maddison's free kick isn't particularly good, but deflects off the wall and out for a corner on the left. Maddison takes. Castagne wins a header, eight yards out. He sends it down, towards the bottom right, but there's no pace on it, and it's an easy claim for Guaita.
78 min: Maddison is bowled over 30 yards from goal, just to the left of centre. Free kick. He gets back to his feet. His eyes light up.
77 min: Zaha is replaced by Mateta.
76 min: Castagne crosses from the right. Neither Barnes nor Vardy are able to connect and send the ball goalwards.
75 min: The punters in the King Power are pretty pensive right now. A point won't do much to lift the mood. Can the hosts find the winner they – and their put-upon manager – desperately need?
73 min: Amartey's weak backpass is nearly snaffled by Ayew, but Danny Ward spots the danger and races out to blooter clear. Some disquiet.
72 min: Vardy, chasing down the inside-left channel, barges Andersen off the ball with great ease. He looks to skip into the Palace box only to run the ball out for a goal kick.
71 min: Castagne flicks in from the right for Maddison, who rides a tackle then whips a shot towards the top right from 12 yards. Guaita does extremely well to keep hold of a fiercely struck effort.
69 min: Vardy's presence earns Leicester a corner on the right. Maddison comes over to take. Ayew batters a header clear.
68 min: Faes creams long down the middle. Maddison nearly latches onto the pass on the edge of the Palace box, but Guaita comes out to claim.
66 min: Leicester make a double change, sending on Vardy and Mendy for Daka and Soumare. Palace meanwhile swap out Edouard for Olise.
64 min: Palace come again, Edouard bustling down the inside-left channel and fizzing a shot towards the bottom left. Danny Ward does well to turn around the post, and nothing much comes from the corner.
63 min: Zaha dribbles left to right across the face of the Leicester box. He's never quite in control, but he doesn't relinquish it either. Eventually he sorts his feet out to have a dig. The shot is blocked.
61 min: Leicester have picked up the pace again. Justin curls into a crowded box from the left, and the ball somehow evades everyone, bouncing out to the right for a goal kick.
60 min: Daka skelps a fierce cross-cum-shot into the Palace six-yard box from a tight angle on the left. Palace clear their lines, though it's more through luck than judgement.
59 min: Faes snatches the ball off Edouard and sets Maddison away down the middle. Maddison goes for the threaded daisycutter into the bottom left. Inches wide of the post. Not entirely sure Guaita had that covered.
58 min: … so having said that, Soumare picks it up a bit, driving down the middle and slipping a ball to the right for Castagne, who slaps a shot towards the bottom right. Easy for Guaita.
57 min: Leicester's pace has dropped a little.
55 min: A double change by Palace, as Mitchell and Doucoure make way for Riedewald and Milivojevic.
53 min: Andersen rakes a long free kick wide left for Mitchell, who takes one touch to scoot past Amartey and enter the Leicester box. He can't find a team-mate with his low cross, though. Such a shame, because that was a very simple but visually pleasing move.
52 min: Barnes and Daka one-two their way down the inside-left channel. Barnes is in! But he takes a heavy touch that allows Guaita to smother at his feet. Pretty sure VAR would have ruled out any goal for offside, but that's all academic.
51 min: … Justin hoicks a long-distance shot miles over the bar.
50 min: Maddison's corner skims off the top of Andersen's confused noggin. He'll take another, this time from the right. And from that …
49 min: Leicester have started the second half brightly. Castagne barrels down the right but Daka can't control his cross. They try again down the left, Dewsbury-Hall winning a corner that Maddison will take.
47 min: Leicester come again quickly, Barnes sent scampering down the left by Dewsbury-Hall. He reaches the byline and cuts back for Maddison, who leans back and hoicks over from just inside the box. He really should have worked Guaita at the very least.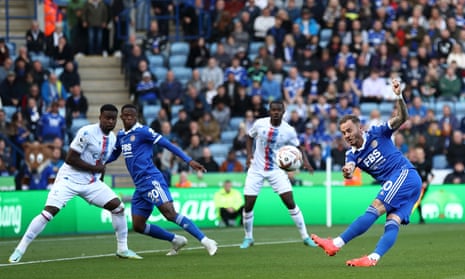 46 min: Dewsbury-Hall and Maddison combine cutely down the inside-right channel, and feed Daka into space. Daka smacks low and hard towards the bottom right, forcing Guaita to turn the ball around the post. The flag then pops up belatedly for offside.
Leicester get the ball rolling again. No changes by either side.
Half-time entertainment. Hot off the press, it's Wilson!
HALF TIME: Leicester City 0-0 Crystal Palace
The free kick is a non-event, and that's a fitting end to the half. A few boos of displeasure as the teams make their way back down the tunnel.
45 min +1: The first of two added minutes sees Doucoure booked for a late slide on Dewsbury-Hall. A free kick 35 yards out. Maddison will swing it upfield with everyone lined up on the edge of the Palace box.
45 min: Dewsbury-Hall pings a diagonal pass towards Castagne, just inside the Palace box on the right. Castagne chests down, but only succeeds in sending the ball flying out for a goal kick. A more cushioned take would have set up a shooting chance.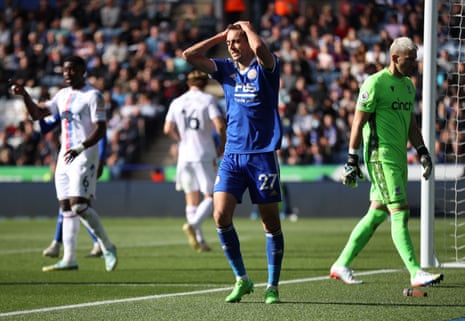 43 min: A bit of space for Eze, 25 yards out. He creams a rising shot towards the top right. Danny Ward fingertips over … or does he? The referee – who earlier in the Palace move had expertly and gymnastically contorted his body in mid-air to get out of the road of a pass (6.0 6.0 6.0 6.0 6.0 6.0) – awards a goal kick.
41 min: Guaita comes through a crowded box and punches clear. Some no-nonsense goalkeeping, right there.
40 min: Dewsbury-Hall jigs down the left and draws a cynical tug from Schlupp. Free kick, just to the left of the Palace box. Maddison to take.
38 min: Andersen sprays a long diagonal towards Eze on the left. Eze cuts infield and tries to release Edouard down the middle, but overcooks the pass, which runs through to Danny Ward. It's not quite clicking in the final third for either team.