WASHINGTON — Supreme Court justices appeared conflicted Tuesday as they weighed whether a challenge to a California animal welfare law that bans the sale of pork derived from breeding pigs housed in confined spaces can move forward.
During more than two hours of oral argument, several justices raised concerns about the potential impact if the court were to endorse a measure that its challengers say unlawfully regulates farmers in other states, citing a broad range of actions that other states could take.
But there also seemed to be awareness on the court, which has a 6-3 conservative majority, that a ruling against California could impose new limits on states attempting to protect the health and welfare of their people.
The justices could ultimately revive the challenge by allowing it to move forward in lower courts, which upheld the measure, without needing to reach a conclusion on whether the California measure is lawful.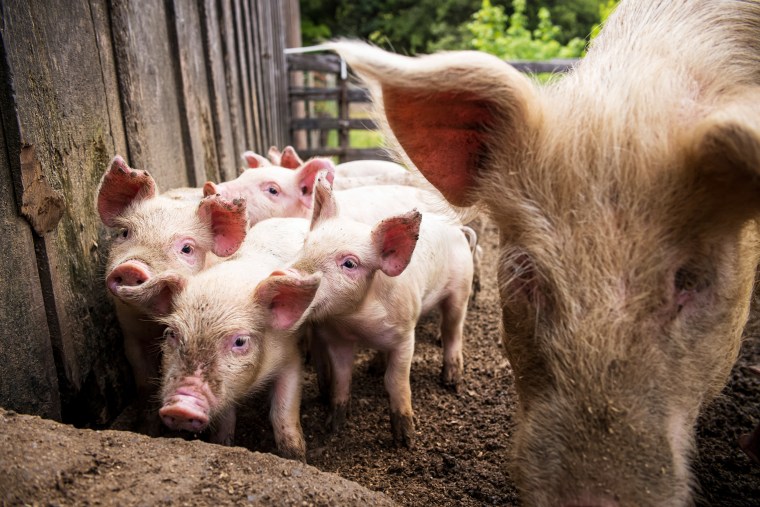 Californians approved Proposition 12 in 2018 with nearly 63% of the vote, a margin of more than 3 million votes. The state's lawyers pointed out in court papers that voters were told the measure, which is not in effect, would likely increase the price of pork while providing for more humane living conditions for pigs and potentially reducing the risk of foodborne illnesses.
The National Pork Producers Council, which represents the pork industry, and the American Farm Bureau Federation, which represents farming interests, sued in 2019 saying the measure violates a provision of the Constitution called the commerce clause, which has been interpreted to bar states from interfering with interstate commerce.
The challengers say the measure impermissibly interferes with interstate commerce in part because almost all of the pork sold in California is produced out of state. The law also imposes an excessive burden on out-of-state entities without having a clear in-state benefit, they argue. As a result, they say, the law has an unlawfully broad extraterritorial effect.
During the argument, the court did not appear to be divided on ideological lines, with both liberal and conservative justices offering a range of bleak hypothetical questions about how a ruling in favor of either side could affect the delicate relationship between states.
"We live in a divided country," liberal Justice Elena Kagan said, noting that the Constitution's restrictions on states blocking interstate commerce were an effort to unify the nation. The case reaches the court at a time when states "are at each other's throats" and big states like liberal California and conservative Texas seem to be "at war," she added.
With that in mind, Kagan and others questioned whether Texas and other states would retaliate if California sought to regulate conduct outside its borders. Conservative Justice Amy Coney Barrett, for example, wondered if states could tie laws to contentious issues like vaccine mandates or gender-affirming surgery for transgender people.
Likewise, fellow conservative Justice Brett Kavanaugh asked if states could condition sales of certain products on whether companies paid above the minimum wage or were unionized. He also questioned whether a state could set a requirement that products have to be made by a workforce in which everyone is lawfully permitted to work in the United States.
On the other hand, Kagan and conservative Justice Neil Gorsuch also wondered why states should be prevented from issuing regulations that have an out-of-state impact based on moral objections. Kagan questioned whether, before slavery was outlawed, states could have barred the importation of goods that were manufactured using slave labor.
Along similar lines, Barrett asked whether a ruling against California could limit the state's efforts to require clean emissions standards for vehicles, a concern raised by liberal groups.
The groups challenging the California law say in court papers that Proposition 12 "will transform the pork industry nationwide" because currently nearly all farmers keep sows in pens that do not comply with the law.
That view has been contested by California and its allies, including meat producer Perdue Premium Meat Company, which filed a brief in the case saying that its Niman Ranch brand has for years been raising hogs that would have been in compliance with Proposition 12's requirements.
California Attorney General Rob Bonta, who is defending the law, said in court papers that the measure is valid under the commerce clause because it is not aimed at benefiting California producers over out-of-state competitors. The Supreme Court would have to place new limits on states if it embraced the challenger's arguments that a regulation tied to in-state sales can be invalidated because it has a big practical impact on other states, he added.
The Biden administration has backed the challengers in the case, with Solicitor General Elizabeth Prelogar saying that Proposition 12 does unreasonably restrict interstate commerce in part because it is regulating the welfare of animals that are not inside the state's borders. The stated benefits also fail to justify the sweeping nature of the law because its health benefits have not been established, she argued.