Key events
15 min: Cheick Doucouré is booked for a horrid challenge Adams in midfield, dragging his studs down the back of the Leeds man's ankle. VAR had a look at that, and it would not have been entirely mad had they upgraded it to a red card, such was the level of danger involved.
10 min: Aaronson embarks on a mazy, skilful run cutting in from the Leeds right wing. He clips a shot which bounces back off the far post, out of the reach of Harrison who is running in on the follow-up. But Struijk is there to calmly sidefoot the ball over the line – it flies through the legs of Joel Ward, who has stationed himself on the goal line.
Leeds had enjoyed plenty of early possession and pressure, and this is a worrying start from a Palace point of view.
Goal! 10 min: Crystal Palace 0-1 Leeds (Struijk)
It had been coming!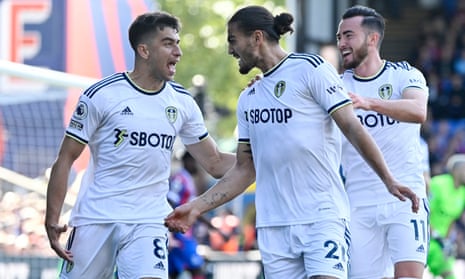 8 min: Andersen pumps a good long ball out of defence, to the right wing, for Ayew to chase. He tracks it down by the corner flag and passes back to Olise, who fires a deep cross aimed at the far post intended for Zaha. It's overhit, though, and bounces out for a goal kick.
6 min: Fulham have scored at West Ham, Pereira with the goal.
The action at Selhurst Park is frenetic. Leeds are in the ascendancy. Harrison now pokes a shot wide of goal from an angle.
5 min: Schlupp, who is in fact playing in the unfamiliar position of left-back, fires a very overhit backpass towards Guaita, who at least manages to keep it out of the net, but the ball then squirts into the possession of Leeds on the edge of the area. Palace clear the danger but that was a nervy moment.
3 min: Bamford nearly springs the Palace offside trap, chasing a ball over into the right channel sent from the midfield, but he's off by a couple of yards.
1 min: The sun is shining. The fans are chanting. Crystal Palace are in red and blue striped shirts with blue shorts and blue socks with a red trim, Leeds all in white. It all looks great! Wilfried Zaha is fouled out wide and goes down grimacing. He's OK.
Here we go!
The teams are out! There are warm and friendly words between Vieira and Marsch before KO.
"Hi Luke. I'm a lifelong but exiled NotSoNastyAsTheyUsedToBeLeeds fan," emails Jeremy Boyce. "Devastated by the departure of El Loco (would he have turned it round ? As the Monkees put it "I'm a believer") but trying hard to give Jesse a chance. They need a v Chelsea performance, not another v StevieGFC showing, but not sure we'll get that.
"I admire your optimism, that this will be worth watching. Let's hope so, Bamford starting, Palace's nippy-zippy front 3 v Cooper's ageing legs, there could be goals. On the other hand…. Both would be ok grinding out a non-win/non-defeat. You will be able to tell us ALL about it starting any time NOW !"
Can't argue with any of that.
Sky's stattos inform us that Leeds's most recent Premier League win at Palace was 24 years ago. Goals from Rod Wallace and Jimmy Floyd Hasselbaink.
It was the match that Tomas Brolin sustained a head injury, came back on with his head bandaged up only for (if memory serves) the bandage to promptly be dislodged by a flying ball.
"Where do you see Leeds right now, Paul?" asks David Jones, the Sky anchor, hoping for some biting analysis.
Merson replies: "Er … Crystal Palace?"
Jesse Marsch, who served a one-match touchline ban after being sent off in the defeat by Brentford, speaks to Sky Sports:"It's good to be back on bench … but it's about the two teams playing each other. I think our guys are prepared."
On Patrick Bamford: "We've hand him well in the past few weeks … he's in the strongest physical condition since I've been here. He is a big threat, it gives us more scoring power.
"Patrick Vieira does a great job with this team … They like to spread the field, we like to compress the field … we have to be aggressive, we have to play brave, and control them in one v one situations."
In other news: Jonathan Liew reports from the Euro 2024 draw:
"The draw for the Euro 2024 qualifiers has thrown up a repeat of the 2020 final, with Italy facing England in Group C. There were gasps at the Festhalle in Frankfurt as the former Germany striker Karl-Heinz Riedle pulled England's name out of the second pot of seeds. On paper, it is England's toughest qualifying group in more than two decades, with Ukraine and North Macedonia also contesting the two available places at the finals in Germany. Malta complete the five-team group."
In this week's "Things to look out for …", Daniel Harris says Palace need to start turning their positive performances into points:
"There is much talk in football about who deserves what – whether a goal, a result or a placing. The reality, though, is that the game has devised metrics perfect for determining these things, known as "the score" and "the league table". So we cannot say Crystal Palace do not deserve to be 17th with one win from seven games, because that reflects how they've done according to our pre-determined criteria. But it is absolutely the case that Crystal Palace should not be 17th with one win from seven games, because they have some lovely, exciting and excellent players who are far better than that. In their defence, they have already faced Arsenal, Liverpool, Manchester City and Chelsea, but they were in front in three of those four encounters and conceded late in the latter – as they did when tossing two points at home to Brentford. Which is to say their performances have been decent, but a lack of ruthlessness has cost them – an issue they must solve, and fast."
Team news: Joachim Andersen starts at centre-back for Crystal Palace having been ruled out of the defeat by Chelsea with a calf injury. He is one of two changes: Jeffrey Schlupp also replaces Tyrick Mitchell.
Patrick Bamford starts up front for Leeds, for the first time in a long time, having made an appearance off the bench against Aston Villa.
Crystal Palace: Guaita, Ward, Andersen, Guehi, Schlupp, Olise, Doucoure, Eze, Ayew, Edouard, Zaha. Substitutes: Mitchell, Milivojevic, Tomkins, Mateta, Hughes, Johnstone, Ebiowei, Riedewald, Gordon.
Leeds: Meslier, Kristensen, Koch, Cooper, Struijk, Adams, Roca, Aaronson, Rodrigo, Harrison, Bamford. Substitutes: Ayling, Summerville, Klaesson, Llorente, Gyabi, Gnonto, Gelhardt, Greenwood, Klich.
Referee: Paul Tierney (Lancashire)
Crystal Palace are currently flirting with the relegation places – they sit 17th in the table with six points from seven matches – and Patrick Vieira could really do with a win today to calm the collective nerves while beginning to reacquaint the Eagles with mid-table respectability.
The only problem is that Leeds and Jesse Marsch would dearly love three points too, given the fact they have now gone four Premier League matches without a win. Their previous league victory, when they overwhelmed Thomas Tuchel's Chelsea 3-0 at Elland Road, feels like a long time ago. Mainly because it was a long time ago.
Vieira and Marsch have plenty of history from the MLS when they managed New York City and New York Red Bulls respectively, so that adds a potentially intriguing twist to this afternoon's match. Will it be a nervy grind, or a free-flowing feast of football? I fancy it will be worth watching. Team news and more coming up.
Kick-off: 2pm