Key events
This weekend's Premier League fixtures
Saturday (3pm unless stated)
Everton v Liverpool (12.30pm)

Brentford v Leeds

Chelsea v West Ham

Newcastle v Crystal Palace

Nottingham Forest v Bournemouth

Tottenham v Fulham

Wolves v Southampton

Aston Villa v Erling Haaland (5.30pm)
Sunday
On this day in 1981… David Cross, future father of the England cricketer Kate, scores four times for West Ham at White Hart Lane.
On this day in 1987… Jim Smith's QPR go top of the old Division One after beating the champions Everton. Check out the exceedingly dodgy winner from Martin Allen.
Thomas Tuchel on Pierre-Emerick Aubameyang
It'll be interesting to see how Tuchel balances the side once Aubameyang is up to speed, especially if he persists with a back four. But any formation that includes Aubameyang should be an improvement for a team who have been desperate for a decent No9 since Tuchel came to the club.
On this day in 1996… Sheffield Wednesday extend their lead at the top of the Premier League after beating Leicester City live on Sky, with Ritchie Humphries scoring a belter.
Nottingham Forest signed 21 (T-W-etc) players this summer. Will Unwin has the story of a frantic summer at the City Ground.
One agent told the Guardian he entered into negotiations with the club on five occasions for a player and then Forest stopped picking up the phone.
A reminder that it's the first Old Firm derby of the season tomorrow. Here's Ewan Murray's preview.
Scottish football will never die – it is far too important in a societal context – and attendance numbers remain impressive, yet a league where third place is the best possible outcome for 10 of the 12 teams is fundamentally flawed.
More Liverpool team news The new signing Arthur Melo is unlikely to receive international clearance in time to play at Goodison Park tomorrow. Jurgen Klopp expects him to be available for Napoli away on Wednesday. That will probably mean a midfield of Harvey Elliott, Fabinho and Grandpa Milner* for tomorrow's game.
* I say this with love; he's absolutely one of the good guys. And he's 10 years younger than me.
Spurs team news Antonio Conte says Cristian Romero and Rodrigo Bentancur will return to the Tottenham Hotspur squad for tomorrow's game at home to Fulham. Spurs have had a mixed start – 11 points from five games is about par, but they haven't played particularly well.
Manchester United team news Anthony Martial, who unexpectedly finds himself as the first-choice No9, will miss the game against Arsenal through injury. Erik ten Hag says he doesn't know when Martial will be available again.
Luke Shaw and Aaron Wan-Bissaka could return to the matchday squad on Sunday.
Thomas Tuchel has been discussing Chelsea record-breaking splurge.
You can discuss endlessly if it's too much money but the players that we got are very, very good players and very good personalities. It was desperately needed to rebuild the group and inspire the group. I think we made excellent signings. It does not help if we talk about the price too much. It's hard to argue if people say maybe it was too much money, but this is how the market was for us. The players we got fit perfectly. I'm very happy to work with this group now.
Liverpool striker Darwin Nunez is available for tomorrow's Merseyside derby after serving a three-match ban for putting the head on Joachim Andersen. Diogo Jota also returned to training yesterday and should be in the squad at Goodison Park.
The transfer deadline has passed, but Wesley Fofana's acrimonious departure from Leicester is still a talking point. Brendan Rodgers has beef, though it's not with Fofana.
The [Instagram] post was probably a cheap shot towards the end from people and representatives, rather than him. The kid is a great lad. He was brilliant for me.
Bad news for Southampton: the teenage midfielder Romeo Lavia, who has made an outstanding start to the season, is out for around six weeks with a hamstring injury. He looks a player, that lad.
A plug for this week's Knowledge, which includes a cracking story about Fidel Castro and the German fourth division. Click that!
Mohamed Elneny will be out for "months", according to Mikel Arteta. "We are talking weeks with Thomas [Partey], hopefully sooner." Oleksandr Zinchenko will also miss the trip to Old Trafford on Sunday, so Albert Sambi Lokonga is almost certain to start in midfield.
Arteta also said that Aaron Ramsdale and Martin Odegaard are being assessed and will hopefully be able to train with the team tomorrow.
There are hundreds of things to look for in the Premier League this weekend. Here are 10 of them.
Thanks Gregg, hello everyone. Mikel Arteta's press conference has started, and he's talking about the non-signing of Douglas Luiz. "We tried. We have to bring the type of player who is right for the club, but in the end we didn't manage that."
He didn't actually name Luiz, but it's common knowledge that Arsenal were keen on signing him.
One late transfer to report, with Rob Smyth coming in to replace me on this blog. There's another actually. Fenerbahce might be taking Michy Batshuayi off Chelsea's hands after the striker's move to Nottingham Forest broke down late on. I'm assuming the Turkish deadline – or rules – allow this to happen today. Anyway, I'll hand over to Rob now. Bye!
So what's the most head-scratching deal that was done on deadline day? For me Daniel James being loaned to Fulham from Leeds is a mad one. At one point it seemed like he was heading for Spurs. Maybe I'm missing something but I'd have thought Leeds could do without lending newly-promoted clubs some of their players. Any other odd ones?
Also, #DANGERMAN?
Back to Celtic v Rangers – Ewan Murray reckons it will be a great spectacle but also a match that will highlight the broken system in the Scottish Premiership that means the gulf between the Old Firm and other teams just keeps growing.
West Ham might be languishing down in 14th after an underwhelming start to the season but David Moyes is feeling pretty perky about his side's chances of racing back up into the European places after spending around £150m this summer. The Hammers, who finished sixth and seventh in the last two seasons, brought in eight new players before the transfer window closed: Alphonse Areola, Nayef Aguerd, Flynn Downes, Gianluca Scamacca, Maxwel Cornet, Thilo Kehrer, Emerson Palmieri and £52m club-record buy Lucas Paqueta.
I've think we've tried to bring in players we really believe can keep us up near the top end. We needed the players in. We were short and I think it was always going to be a year where we needed eight new players. I think the top clubs have recruited well also. We're trying to keep up with them, that's the job. Hopefully, in time, we can get the players to show how good they are."
West Ham travel to Chelsea on Saturday in a match which was rescheduled from its original Sunday slot just last weekend due to the Blues' involvement in the Champions League. It means the Hammers will have played Sunday, Wednesday and then Saturday – a run of fixtures Moyes is not particularly impressed with.
I think it's disappointing because it was known there would be Champions League games and European games for us as well. I'll tell you something about the Premier League, they've got a great organisation and in the main these situations don't happen that often. When I was fortunate enough to manage in Spain for a year, the one thing that was completely different from the Premier League to La Liga was that the Premier League's organisation was fantastic. La Liga was really late with organisation. When was the game going to be? Was it going to be 6pm, 10pm? Was it going to be Sunday, Monday, what day was it going to be? When I was out there it was the thing that annoyed me a little bit. I hope the Premier League is not going like that because I think they've got this one wrong. The lateness for the supporters is not correct.
An interesting comment on Chelsea's transfer dealings here. A club has never spent as much as Chelsea have in one window – and a club certainly hasn't lavished so much cash to such a lukewarm reaction from pundits and fans alike.
After a bumper summer for women's football that culminated in England winning the Euros, there is much excitement for the start of the WSL season. It begins in just over a week's time and we're carrying two previews every weekday as we count down to kick off. The first couple have already been published.
You can read what Suzanne Wrack makes of Arsenal's chances here:
And Louise Taylor runs the rule over Aston Villa:
I'm a big fan of Liverpool signing a Jedi on loan, by the way.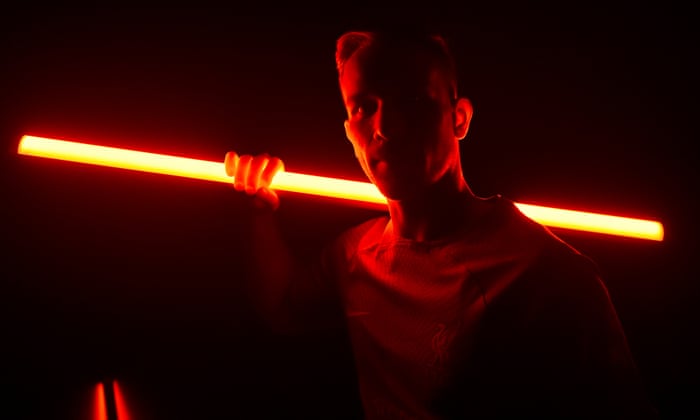 It's the first Old Firm derby of the season tomorrow and Celtic will have a new midfielder Oliver Abildgaard – their ninth summer signing – available to face Rangers should they wish. You wouldn't guess that a Denmark international who had been playing for Rubin Kazan was an obvious one to come over all Robbie Keane when he was unveiled, but he did. This is from Associated Press:
Celtic released a photograph of Abildgaard wearing the green and white hoops on his ninth birthday and the player explained the connection. "My uncle is a huge Celtic fan and my granddad lives in Aberdeen and also is a Celtic fan," he told Celtic TV. "This is a day I've been very much looking forward forever since I heard the possibility of coming here. I've been following the highlights recently, ever since I heard about the interest, and I've also been keeping my eye on Carl Starfelt as well ever since he moved here a year ago. He's been amazed by the club ever since he came here, and the life in Glasgow as well. He's enjoying it very much and he's only told me good things about it." Abildgaard described himself as a holding midfielder and added: "Due to my physique, I'm very strong, I will win my duels, and I'm able to be the link between our defence and our attacking players."
There's a bit more from Gerrard here. He's well aware of the displeasure among fans in the Holte End.
I know the fans are frustrated at the moment. We heard and felt that last week. You don't just create a siege mentality when you go through bad patch. You do that from the moment you walk through the door. [But] it's time to stick together and fight and I have every confidence we can do that. [City] can have an off day. We need to have that belief and have a fighting chance.
He also spoke about how he was hoping to go and view Pep Guardiola's coaching methods – among other managers – when he was Under-19s coach at Liverpool – but the job at Rangers came up and he never got chance to. "That was the original plan … try to steal some material and experience from these guys but the Rangers opportunity came sooner than expected [so it didn't happen]. What I will say is that whenever I've been in his company [Pep's] he's had time for me. These are the coaches I really want to pit my wits against."
Steven Gerrard is a manager under pressure after a poor start to the season by Aston Villa that is hardly likely to get any better when Manchester City come to town this weekend. The Villa manager is mighty relieved to have Douglas Luiz available for selection after fending off bids from Arsenal all day yesterday. But will Luiz have a raging funk on after being denied a move to the table-toppers? Probably but here's what Gerrard had to say in his pre-match press conference.
I've got confidence he'll understand the situation and the club's decision we didn't want to lose a very important player and a top player so late in the window. From a personal point of view, I very much back the club's decision and stance on that. I spoke to Dougie face to face yesterday and he understood where it was at and the position that the club was in. He very much respects the decision. Hopefully it will calm down in the hours and days to come and he'll be fine moving forward.
Gerrard strengthened his midfield by bringing in Leander Dendoncker from Wolves for £13m (decent business, no?) and, perhaps more importantly given the state of his defence, centre-back Jan Bednarek from Southampton on loan. It sounds like Bednarek had no idea where he was going to end up until very late on. "It was an emotional day. One minute I am going to West Ham, another minute Villa. There were a lot of conversations with Southampton and all the managers. I ended up at Villa and I'm really happy with the decision. It was a good decision. It wasn't easy because if you have another option you have to take the decision like an adult and this is real life. It was a tough problem but a good problem. I'm really happy I have these issues in my life, that I have to choose between two Premier League teams."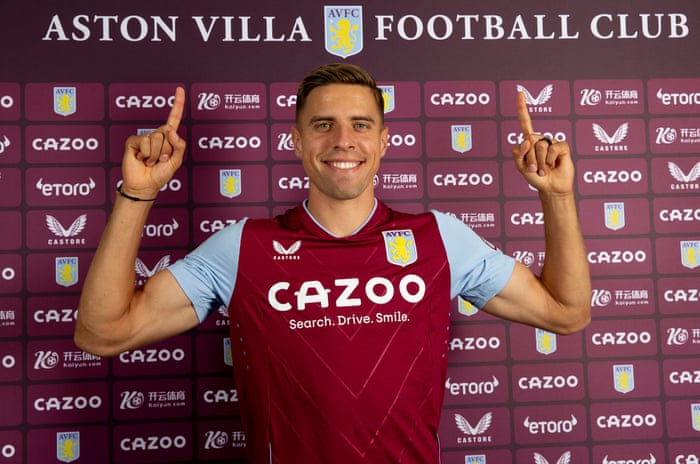 Nottingham Forest face Bournemouth at home tomorrow. They'll be hoping to bounce back after being tormented by Erling Haaland during their 6-0 evisceration at Manchester City. It's a decent fixture when looking to recover from defeat – just ask Liverpool – but has Steve Cooper signed too many players (21!!!) to bring order to his team quickly enough?
I'm not going to use it [the number of new players] as an excuse, I am not going to say 'we will be ready in X amount of time' because we have got a game on Saturday and we have to be ready for that. That is what my focus is – I never look further than the next game and never have done. Whether there is players that have been here for years or whether they have come through in the last couple of weeks, it is irrelevant to me. We work the way we work, we train the way we train, we stick to our our values and beliefs, day in day out. I believe that is what helps you become the team that you want to be. For me I want us to be connected on Saturday in terms of a team and we will commit to every game as it comes. It is not so much a big squad. It is a normal-sized squad in terms of the numbers that you need to train well every day. It is nine subs this year … it is just a big amount of new players.
Willy Boly – who joined on deadline-day from Wolves – was one the 21 new recruits. He's delighted to be joining Forest.
Whisper it, but after a sizzling summer transfer window, José Mourinho's Roma might be in the Serie A title hunt this season. That's the view of Nicky Bandini after Roma went joint top in Italy. They recouped £37m this summer and improved their squad. Wages make that figure a little misleading but it's still impressive. See for yourself here.
Brighton will have Billy Gilmour, signed from Chelsea on deadline day, available for the match against Leicester on Sunday. Are club and player happy? You bet!
Brendan Rodgers spoke at length after Leicester's 1-0 defeat against Manchester United about his frustration at not having been able to strengthen his squad. There was a touch of the Scott Parkers about what he said – and if ever a manager needed a win on Sunday it is Rodgers. They face fourth-placed Brighton away, mind. It's not like the Leicester manager to be this rattled in public.
I'm happy that the window's shut, if I'm being honest. I mean, there were huge distractions for this window. You'll have read the programme notes and seen the situation that the club is in, so to have to watch virtually every single club in the top five leagues get players in and for us not to be able to improve, that was difficult, not just as a manager but for the players, because players want to compete. This group have shown that they can compete, but we needed [help] – but unfortunately, we haven't been able to get that. So, in terms of the results, it's my responsibility. I take that. We should have won by now. We've been in a couple of games and in really good positions, but we weren't able to see it through, so I totally understand it. Supporters want to see the team win and if they're not, they'll tell you. So, for us, we won't hide behind the rock and go away. We're ready to fight now but it's going to be really, really important that the supporters really get behind the players. As I said, it's a really, really challenging situation with not being able to freshen up this team and this group of players. We really need their encouragement and help to push the players through. We'll get a win sooner rather than later but we really need them behind us and that's important."
From Nottingham Forest's 21 deals to Arsenal's targets signings we run the rule over the Premier League's £1.9bn outlay. To be honest, it's not great reading for Leicester and Bournemouth fans.
Howe: 'Clubs didn't want to be seen helping us'
Eddie Howe loves an early press conference and Newcastle's manager has already previewed the home match against Crystal Palace on Saturday. He was asked about the summer spend of £106m and said his club might have been busier if Premier League rivals were willing to do business with them – but it sounds like they are shunning them and their Saudi riches.
I would say that that has definitely been something we've felt in the market. Domestic clubs didn't really want to be seen to be helping us. We'll have to take that. That's part of where we are at the moment."
And after Newcastle were criticised for their perceived time-wasting antics at Liverpool, Howe isn't going to be changing his tactics anytime soon.
We're just trying to be very competitive, we're trying to play our way. We don't want to lie down and accept anything. We want to fight for every point, every tackle and do everything we can to win. If that's unpopular with people, then so be it, but we'll continue to hopefully play in the way that we all see that we should. We've got to fight for everything."
Morning! So, the transfer window is closed until January. Many managers will be relieved – especially Brendan Rodgers – as the thrum of speculation around players ends. It was a busy old window with Premier League clubs spending a jaw-dropping £1.9bn, eclipsing the previous record of £1.4bn in 2017. That figure is higher than the outlay in La Liga, Bundesliga and Serie A combined. Chelsea went wild in the aisles as Todd Boehly loosened the purse strings to the tune of £278m to strengthen Thomas Tuchel's squad. Their late deals were midfielder Denis Zakaria, who joined on loan from Juventus, and Pierre-Emerick Aubameyang, for £12m from Barcelona. How will he perform back in the Premier League? Seems good value, no?
Meanwhile, Steve Cooper will be like a schoolteacher frantically trying to learn the names of his new class after Nottingham Forest brought in 21 players. And who won the transfer window? I'd argue the top two teams in the Premier League after five games, Arsenal and Manchester City. Liverpool moved late to add a midfielder, Juventus's deep-lying playmaker Arthur Mello, to their ranks as Jordan Henderson joined other middle men on the Anfield treatment table. Will he feature in Saturday morning's Merseyside derby? If he does he could face Idrissa Gueye, who is back at Everton after leaving PSG. And Cristiano Ronaldo stayed at Manchester United, as Erik ten Hag said he would. He now has Anttony as a teammate. How will the incoming winger cope with that £82m price tag when he steps on to the Old Trafford turf?
Here is a list of some of yesterday's bigger moves across Europe, in case you missed them:
Marcos Alonso Chelsea to free agent
Denis Zakaria Juventus to Chelsea
Wilfried Gnonto FC Zurich to Leeds
Pierre-Emerick Aubameyang Barcelona to Chelsea
Billy Gilmour Chelsea to Brighton
Loic Badé Rennes to Nottingham Forest
Josh Bowler Blackpool to Nottingham Forest
Daniel James Leeds to Fulham
Lázaro Flamengo to Almeria
Christopher Wooh Lens to Rennes
Boubacar Traoré Metz to Wolverhampton Wanderers
Duje Caleta-Car Marseille to Southampton
Héctor Bellerín Arsenal to Barcelona
Jan Bednarek Southampton to Aston Villa
André Gomes Everton to Lille
Carlos Vinícius Benfica to Fulham
Juan Larios Manchester City to Southampton
James Garner Manchester United to Everton
El Bilal Touré Reims to Almería
Arthur Melo Juventus to Liverpool
Sam Edozie Manchester City to Southampton
Johan Mojica Elche to Villarreal
Justin Kluivert Roma to Valencia
Amine Gouiri Nice to Rennes
Ainsley Maitland-Miles Arsenal to Southampton
Leander Dendoncker Wolverhampton Wanderers to Aston Villa
Carlos Soler Valencia to Paris Saint-Germain
Sergiño Dest Barcelona to Milan
Julian Draxler Paris Saint-Germain to Benfica
Martin Dubravka Newcastle United to Manchester United
Umar Sadiq Almería to Real Sociedad
Willian Corinthians to Fulham
Idrissa Gueye Paris Saint-Germain to Everton
Abdou Diallo Paris Saint-Germain to RB Leipzig
Layvin Kurzawa Paris Saint-Germain to Fulham
Aster Vranckx Wolfsburg to Milan
Jean Onana Bordeaux to Lens
Julian Weigl Benfica to Borussia Mönchengladbach
Kasper Dolberg Nice to Sevilla
Ignatius Ganago Lens to Nantes
Willy Boly Wolverhampton Wanderers to Nottingham Forest
Jørgen Strand Larsen Groningen to Celta Vigo
Wout Faes Reims to Leicester City
Manuel Akanji Borussia Dortmund to Manchester City
Antony Ajax to Manchester United
You can look at all the summer moves in our men's summer transfer interactive below.
There is also the small matter of the sixth – sixth! – round of Premier League matches this weekend, with some biggies among them, including Everton v Liverpool on Saturday and reinvigorated Manchester United v Perfect Arsenal on Sunday.
Here are 10 things to look out for in them: