Key events
28 min A quiet little spell, the first of the game.
26 min "Before I lost all my VHS tapes forever, I had a well-worn copy of the 1991 cup final,," says Paul Fowler. "If I remember correctly some bright spark decided to trial microphones by the side of the pitch for the first time at that game. At one point, Roy Keane skipped around Justin Edinburgh next to the right touchline (and the aforementioned microphone) and the whole of the UK was treated to Justin's full-throated assessment of Roy as an "Irish ****" at 4pm on a Saturday afternoon. And RIP Justin, by all accounts a good guy."
It's what YouTube was invented for.
24 min Another dangerous cross from Johnson is cleared by the stretching Sanchez. The Spurs defenders aren't enjoying their afternoon.
23 min Possessionwatch: Forest 61-39 Spurs.
21 min Gibbs-White's corner is half-cleared to O'Brien, who pings a long-range drive that is pushed away a little unconvincingly by Lloris. Forest keep the ball, with Williams standing up a cross to the far post. Perisic calmly heads it towards his own goal, and Lloris springs to his right to catch.
20 min Williams' fierce cross hits the back of Perisic and goes behind for another corner. This is a really enjoyable game.
18 min Spurs look so dangerous on the break. Son leads a three-on-three, running 40 yards before finding Kane to his left. He uses Worrall as a screen and shapes a curling shot not far wide of the far post.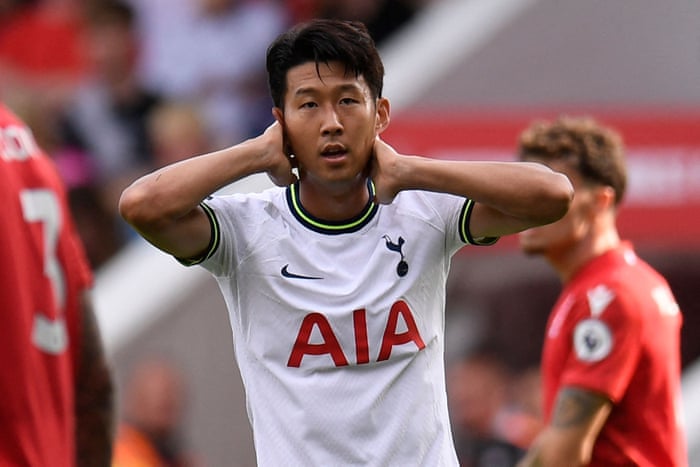 17 min "With Maguire looking set for a spell out of the Manchester United team and a real lack of other English centre backs," begins Jon Collins, "could Dier play his way back into the England squad or even team if Spurs continue their good start to the season?"
I think he could, though he is probably competing directly with John Stones, assuming England play three centre-backs in most games. And Southgate likes Stones a lot. I guess Dier could replace someone like Conor Coady in the squad.
16 min: So close from Son! After a bit of pinball on the edge of the Forest area, Son whips a brilliant first-time curler that beats Henderson and flashes just – and I mean just – over the bar.
13 min Hojbjerg opens Forest up with a through ball towards Kane, who takes it in his stride and is about to shoot when Worrall makes a vital lunging tackle. Great defending.
13 min "I dunno about a Forest win," says Niall Mullen. "I can see Spurs doing the business especially if Gazza keeps his head and Lineker is fit. I'm not sure Des Walker is the player he used to be either."
I'm looking forward to seeing this young Irish lad everyone's talking about.
12 min "Ian Copestake is, to put it gently, a fool," says Matt Turland. "As much as I love the job done by Super Cooper, the target for Forest over the next 2 games is to keep the goal difference respectable and maybe, just maybe, squeeze out a point. Having said that, I am looking forward to seeing MGW start and reckon Freuler, if/when he comes on, will show some real authority."
11 min Gibbs-White overhits the corner. All together now: what a waste of a corner.
11 min Johnson combines superbly with Lingard before hitting a shot from 20 yards that deflects behind off his international teammate Davies.
9 min An excellent low cross from Johnson is cleared crucially by Emerson Royal at the back post. Forest's front three look really bright, Gibbs-White in particular.
9 min "When do you reckon the last time an all-British 11 was fielded in the PL?" says Jamie Johnson. "Curious to see that, despite the largesse of signings that Forest have made, they seem to be set with a UK-based spine. Are Forest the new Burnley?"
That's a good question (the first one), I'll pass it on to Team Knowledge.
8 min That, I am reliably informed by Martin Tyler on Sky Sports, is the 200th league goal of Kane's career.
Kulusevski picked up a loose ball on the halfway line, galloped into space and reversed a nice pass to Kane. He moved to the edge of the area, with defenders backpedalling, and bobbled a gentle shot past the flat-footed Henderson in the Forest goal. Henderson can only have been unsighted.
GOAL! Nottm Forest 0-1 Spurs (Kane 6)
Spurs take the lead with their first attack!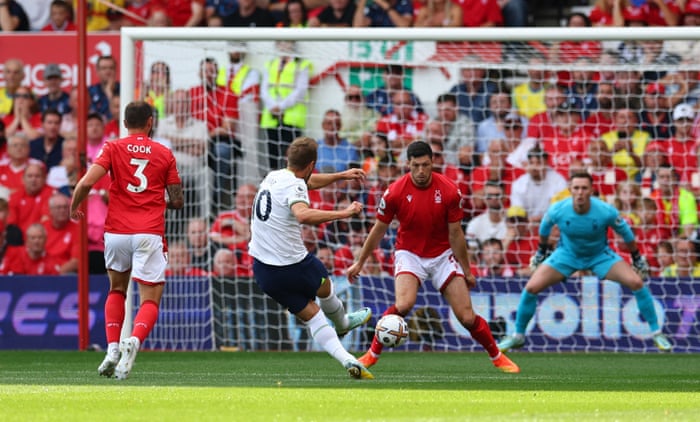 4 min Forest's front three – Lingard, Gibbs-White and Johnson – are switching a lot. It's been a really good start from Forest, with a decent tempo and loads of noise from the home crowd.
3 min Gibbs-White beats a couple of players on an exciting run, then shoots over from distance a few moments later. He's made a really confident start.
2 min "Have Spurs really bought well?" says Andrew Hurley. "Richarlison didn't really set the world alight at Everton, and Perisic doesn't have the legs to play wing-back over a season in the Premier League. They seem to have spent a lot without increasing the quality level that much (is Richarlison, especially as he cost more or less what Haaland did, a huge upgrade on Lucas Moura?)"
I suppose we'll find out, particular when the Champions League games start and Antonio Conte begins to rotate. I'm torn on Richarlison but I don't think it's fair to compare his fee with Haaland, as that was a buyout clause. One big difference with Lucas Moura is that he can play at centre-forward, which allows them to rest Kane occasionally.
1 min Lingard wins an early free-kick on the left-wing. Gibbs-White's inswinger is punched away by Lloris.
1 min Peep peep! Forest kick off from left to right as we watch, and from down to up as they hope to play.
As ever, there's a belting atmosphere at the City Ground. It's such a joy to have it back as a Premier League ground, on TV never mind in person.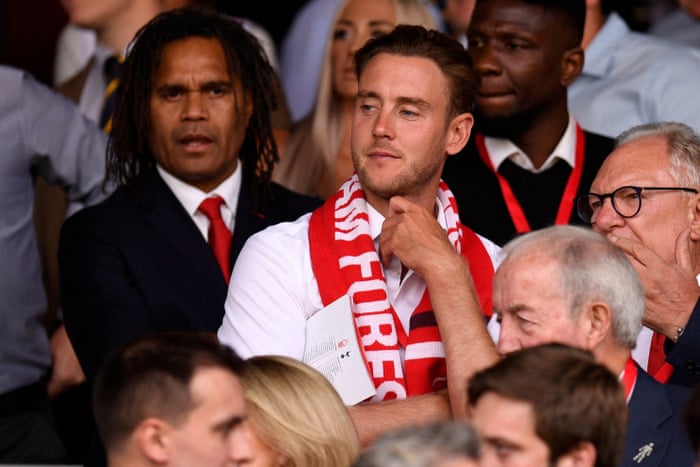 "Am calling this one early, Rob, as a home win," says Ian Copestake. "There is something about this Cooper-man I find very appealing. Is like discovering a new band who have been around since 2014."
I can't believe you've only just started listening to the Pixies? Indie Cindy's one of the great debut albums!
Antonio Conte's pre-match thoughts
We prepare the same way for every game. You have to respect every team. Nottingham Forest are a strong team who have had a very good start to the season. We know there will be a lot of noise [smiles], and we have to be prepared for the atmosphere.
Steve Cooper's pre-match thoughts
We want [Morgan Gibbs-White] to be himself. He's a talented boy, a player I know well from England and Swansea. He gives us good variety at the top end of the pitch. If we do our bit, [the atmosphere] can be a real help for us. We're in control of that with how we play and particularly how we start games, and that's got to be a big focus of ours.
Wolves 1-1 Newcastle was the final score at Molineux, with two belting goals from Ruben Neves and Allan Saint-Maximin.
The other early Premier League game has finished Aston Villa 0-1 West Ham. Pablo Fornals scored the winner in the 74th minute; as a result, Leicester City are bottom of the fledgling league table.
The adorable Allan Saint-Maximin has just scored a spectacular late equaliser for Newcastle at Wolves. Follow the last few minutes of that game with Daniel Harris.
Forest make two changes from their last league game, the 1-1 draw at Everton eight days ago. Ryan Yates and Morgan Gibbs-White replace Orel Mangala (injured) and Taiwo Awoniyi (droptated). Gibbs-White, the club-record signing from Wolves, is making his full debut.
Spurs are unchanged from the 1-0 win over Wolves last weekend.
Nottingham Forest (possible 3-4-2-1) Henderson; Worrall, Cook, McKenna; Williams, Yates, O'Brien, Toffolo; Lingard, Gibbs-White; Johnson.
Substitutes: Hennessey, Biancone, Colback, Kouyate, Freuler, Awoniyi, Surridge, Mighten, Dennis.
Spurs (3-4-3) Lloris; Sanchez, Dier, Davies; Emerson Royal, Hojbjerg, Bentancur, Perisic; Kulusevski, Kane, Son.
Substitutes: Forster, Doherty, Spence, Tanganga, Lenglet, Sarr, Sessegnon, Bissouma, Richarlison.
Hello and welcome to live coverage of Nottingham Forest v Tottenham Hotspur at the City Ground. This fixture is as evocative of the early 1990s as Eldorado, Laura Palmer and Bryan Fecking Adams. There was a famous FA Cup final in 1991, when Gazzamania turned into Gazza's mania (oh and Spurs won the game), plus two cracking League Cup ties that were won by Forest: a quarter-final in 1990 (including a superb goal from Nigel Jemson) and a semi-final in 1992, when both teams played brilliantly in the second leg despite a mudheap of a pitch and a bombscare that delayed the kick-off by an hour. Roy Keane eventually scored the winner, and ITV had to postponed the scheduled broadcast of Harry Secombe's Highway.
Forest and Spurs were equals back then, but they have lived in different worlds since the late 1990s. Spurs are now in the second tier of the Premier League, Forest the fifth. But both are looking upwards. Spurs have dreams of breaking the top two, while Forest hope to join the group of teams who live happily between 11th and 17th in the Premier League.
If Forest are to stay up this season, it will probably be because of their form at the City Ground. Though Brentford showed there is another way last season, most promoted clubs that survive in the Premier League do so because of their home form. Forest got off to the perfect start with an admittedly fortunate 1-0 win over West Ham a fortnight ago. This is a tougher challenge; it's also, given the potential reward, an even more exciting one.
Kick off 4.30pm.
Source link