Key events
Jamie Jackson's report has landed … and here it is. Thanks for reading this MBM. Nighty night!
Jurgen Klopp, presumably having finally concluded his bollocking, talks to Sky. "They were really aggressive in the beginning, it was clear what will happen. But reality shows if you are ready, or really ready, and they were more aggressive than us. They hit the post, then scored the goal, then we took over and played the game we wanted to play. We were unlucky with situations. The second one doesn't help. Then we scored ours, and it became a hectic game with lots of interruptions and it's definitely not the result we wanted. It was not perfect, we lost the game, and I think we were ready but not 100 percent. If we had this one situation, when we could have equalised, the game would change. But we had to keep changing the game. When you are in a rush, 2-0 down, you mishit crosses and passes, and against their counter-attacking threat it's really difficult. We have to take it and work with it. We have to make sure nobody else gets injured, because we have no other options. I'm not concerned about our situation. We can play better but had good moments, and from tomorrow we will fight again."
Liverpool wouldn't be human if they struggled to go again, considering the way the last season ended for them. But until now, the noises coming out of their camp were all fairly positive: all "we're over it" this, "the cup parade helped us put it behind us" that. Robertson's reference to Wolves and Real Madrid might just be the first public admission that it's all still nagging away at the back of their minds. Either way, here they are, hungover in 16th place. Jurgen Klopp's take to come…
Andy Robertson talks to Sky. "Obviously it was not great. It's definitely not the start to the season we wanted, it's been really poor. We give every team a goal start. You can't keep on giving yourselves an uphill battle. We started slow again, and that's what we need to change. We tried to make them look nervous, but they didn't, to be fair. We need to pick up performances individually, and quickly. We need to come together and address this as a team. It's easy to talk about it, but we have to go and do it. Fulham, United, they started better than us, and you even go back to last season, Wolves, Real Madrid, Southampton … it needs to change. We're a close unit, but things need to be said. Things will get better, but we need to start quickly. We need our first three points, that's for sure. Even if we were top, we wouldn't be thinking about the title race. We need to get our first win on the board, our first clean sheet, and get back to basics."
Post-match postbag … because somebody had to. "From the look of the table, does that mean Liverpool are the new holders of the 'crisis club' baton? – David Wall.
"New owners … for Liverpool" – Jeff Sachs.
More from Ten Hag: "I think Bruno Fernandes showed leadership, together with Rafa Varane. They make a huge difference. But that is what they have to bring. We need more leaders. When you want a winning team, you need more leaders. We have to bring it in every game, not only against Liverpool. It starts with the spirit. Tactical is also part of it: where can you have weapons? We play with speed up front, that's clear, but in midfield we played a good pass with Eriksen, Bruno and McTominay. I don't have to mention that Maguire and Ronaldo are amazing players, and they will have a role in the future. Casemiro, Varane and Ronaldo have won trophies and will guide the younger players, I hope their presence will be a huge stimulation to the rest. We want to bring the right players in, not any players, but the window is not closed. We need numbers and quality."
… and now Sky talk to Erik ten Hag. "We can talk about tactics, but it's all about attitude. We brought it onto the pitch, there was a fighting spirit, and communication. You can see what they can achieve, because they can fucking good play football."
[pause as discombobulated presenter performs double take, then apologises for the language despite it being over an hour past the watershed, and we're all adults here]
"Sorry. [clearly still not getting why they're making such a big deal of a wee sweary, he is from a grown-up country after all] I wanted a different approach to the Brentford game, and that's what they brought to the pitch. This is why I am satisfied. We can play much better if we have more composure to make an extra pass. We have good players, but now we can be a team."
Jadon Sancho talks to Sky: "It means a lot. Our first two games didn't go so well, so we knew today was a big game, and that we had to turn it around. Last week hurt a lot. Now hopefully we get momentum, and next week we can get another win. It means a lot to us, and you can see how the fans reacted."
His fellow goalscorer Marcus Rashford adds: "Regardless of the circumstances you're in, a win over Liverpool is massive. We've not done so well, so the three points were massive. The difference was energy. We started at a good tempo. We were tired towards the end, but they got a goal back and we didn't fold. On another day, I could have had a few more goals. For us to be able to switch, chop and change positions is massive."
A little smile betrays Erik ten Hag's supercool for a nanosecond. But he manages to make it to the tunnel without giving too much away. He'll know there's still an awful lot of work to do, but his players responded sensationally to that humiliation at Brentford last week, and their performance tonight demonstrates a world of possibility going forward. An epochal evening? Could be, and their players celebrate accordingly. Jurgen Klopp meanwhile takes care to congratulate United, but trudges off with an extremely grim look on his face. As good as United were – and take no credit away – Liverpool were appalling, and the 2-1 scoreline seriously flatters Klopp's side. Nine days a long time in football? More like ninety minutes, given what most folk expected before kick-off. But now, everything's turned on its head. Old Trafford en fête!
FULL TIME: Manchester United 2-1 Liverpool
The whistle goes, and United secure their first win of the season! They leapfrog Liverpool in the table, and Old Trafford rewards their new-look heroes with the ovation they deserve!
90 min +4: … then wins a corner down the right. This is a masterclass in clock management.
90 min +3: Martial draws a free kick in the midfield …
90 min +2: Van de Beek nudges Fabinho over in the centre circle. United are doing a fine job of stopping Liverpool's rhythm, and building any pressure.
90 min +1: The first of five added minutes sees Ronaldo blaze over the bar from the edge of the Liverpool box. Then Martial fights his way past Tsimikas, but can't nick the ball over Alisson. And finally Malacia clips Elliott late, and is fortunate not to go into the book.
90 min: Firmino chases Salah's pass down the inside-right. Malacia comes across, barging into Firmino's line and taking control, ushering the ball out for a goal kick. Carvalho knocks into the back of Martinez, who goes down in the gymnastic style.
88 min: Salah and Firmino try to cause some bother in the United box, but the ball squirts out for a goal kick. Varane goes down with cramp.
87 min: The game restarts and United sit back. Looks like the rest of this game will be attack versus defence. Liverpool ping it about to little effect.
86 min: Changes ahoy! Robertson makes way for Tsimikas, while the hosts make a triple change: Wan-Bissaka, Van de Beek and Ronaldo come on for Dalot, Eriksen and Rashford.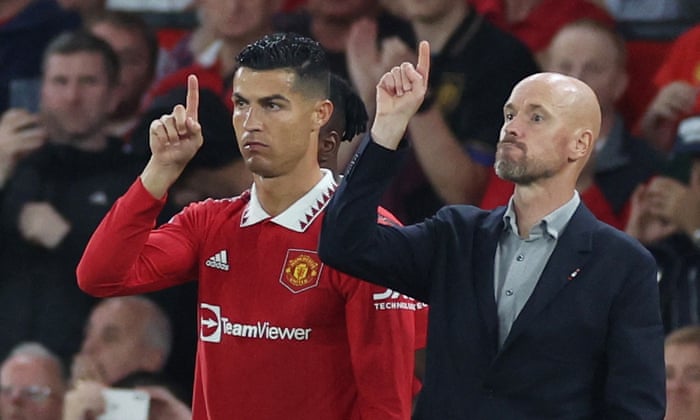 85 min: Salah wins a corner down the right. United fail to clear. Alexander-Arnold releases the pressure on the suddenly jittery hosts by hoicking aimlessly into the stand.
84 min: Eriksen tries to restore United's two-goal cushion with a shot from distance. It disappears deep into the Stretford End.
83 min: There's a bit of childish nonsense between Salah, who wants a quick restart, and Fernandes, who doesn't. Fernandes tucks the ball into his chest. They tussle. Fernandes claims to have been whacked in the face. The referee tells them both to grow up.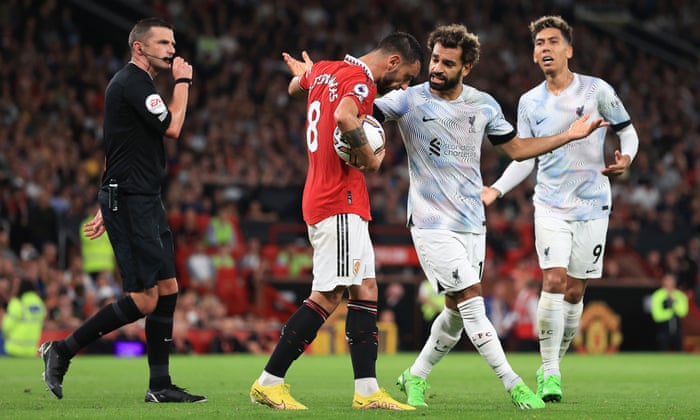 GOAL! Manchester United 2-1 Liverpool (Salah 82)
United fail to clear the corner. Carvalho has a speculative whack. The ball's again not cleared. Salah heads into the bottom right from close range, and out of nothing, Liverpool are back in it!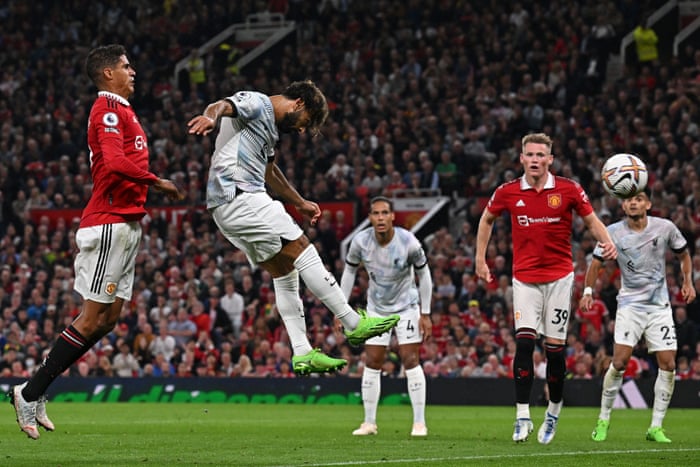 81 min: Alexander-Arnold crosses deep from the right. Robertson returns it from the left. The ball clanks off Firmino and nearly squirts into the top left. De Gea comes across to paw out for a corner. What a save! However …
79 min: Carvalho dribbles into the United box from the left. He's clipped lightly by Dalot but doesn't go down. He'd have given the referee something to think about had he opted to fall.
78 min: Salah wins a corner down the right. Alexander-Arnold floats it in. Firmino heads it down, an easy claim for De Gea.
77 min: Some pinball in the United box. Salah doesn't really compete for the loose ball. Carvalho has a whack. The ubiquitous Martinez blocks.
76 min: Rashford gets past an awfully weak Gomez challenge and glides in from the left. His shot balloons over the bar. That's abysmal from Gomez.
75 min: Alexander-Arnold rolls a pass down the inside-right channel for Salah, who tees up Firmino for a shot that's blocked. Then the flag pings up for offside. Every Liverpool face crumples in frustration. It's been that sort of night. It's been that sort of season so far.
74 min: Fernandes is booked for a fairly obvious dive over Robertson's leg after miscontrolling in the Liverpool box. He has the good grace not to argue, smiling wryly.
73 min: Fred's first act is to ease Elliott off the ball, shepherding it out for a goal kick. Milner then departs for Carvalho.
71 min: Fred comes on for Sancho.
70 min: Van Dijk, who has been awful this evening, tries to bump his personal marks up with a creamy diagonal pass down the right for Alexander-Arnold. He attempts the spectacular with a first-time volleyed cross. Goal kick.
68 min: Alisson chips the ball carelessly out for a throw near the dugouts. Klopp takes the opportunity to catch it and give his team some beneficial advice. He's beyond livid now. Liverpool's players are lucky the journey home is short.
67 min: Salah's dribble earns Liverpool a corner down the right. Robertson hits it deep. Fabinho wins a header and sends it down towards the bottom left. De Gea flops on the ball without fuss.
65 min: Salah slips Elliott into the United box down the right. Elliott shanks his shot across the face of goal, then the flag goes up. Sky flash up a stat that tells much of tonight's story: United have made 106 sprints to Liverpool's 62. Klopp's side are being hoist by their own petard.
63 min: Salah, who has been nigh-on invisible all evening, tries a shot from distance. It's blocked with ease by the sensational Martinez. Then Firmino has an air shot. And then Salah clanks a simple pass towards Diaz out for a goal kick. This is getting mighty embarrassing for Liverpool. A different sort of embarrassment to the one United suffered in this fixture last season, but an embarrassment nonetheless.